Police, school district defend drug raid
Monday, November 10, 2003

http://www.cnn.com/2003/US/South/11/07/school.raid/

After complaints from parents and students, police in Goose Creek, South Carolina, defended their decision Friday to send a team of officers, some with guns drawn, into a high school earlier this week for a drug raid that turned up no drugs.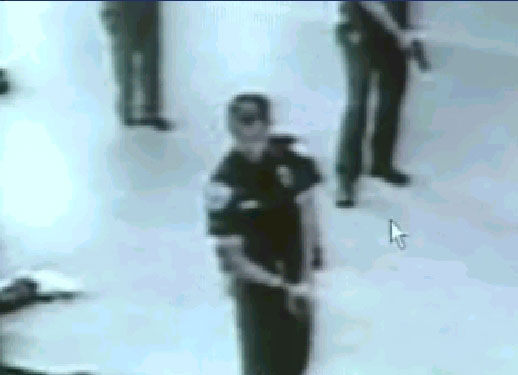 The Berkeley School District north of Charleston, South Carolina, also defended its role in the incident, which has triggered outrage among some in the community.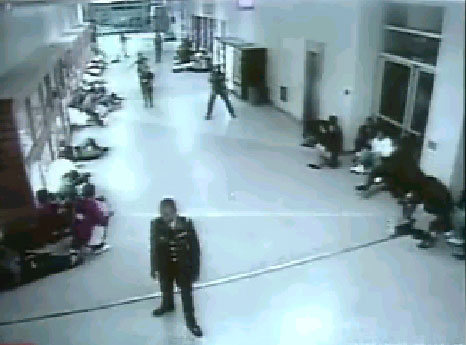 Stratford High School students described Wednesday's incident as frightening.

"They would go put a gun up to them, push them against the wall, take their book bags and search them," Aaron Sims, 14, told CNN affiliate WCSC. "They just came up and got my friend, not even saying anything or what was going to happen. ... I was scared."

Sims said his mother was "a little angry," but his father understood and "thought it was necessary."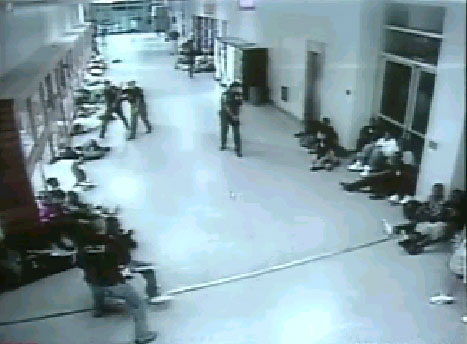 Lt. Dave Aarons of the Goose Creek Police Department said the raid, the first the department has done at a school, followed a police investigation into drug activity that began after a student informed school staff about drug sales on school property.

Police monitored video from school surveillance cameras for several days and "observed consistent, organized drug activity," he said. "Students were posing as lookouts and concealing themselves from the cameras."

When the principal saw more of the same suspicious activity on the school surveillance video, he asked for the officers to respond, Aarons said.

On Wednesday, 14 officers went to the school "and assumed strategic positions," he said.

Within 30 seconds, officers had moved to "safely secure the 107 students who were in that hallway," Aarons said. "During that time some of the officers did unholster in a down-ready position, so that they would be able to respond if the situation became violent."

"The school also designated faculty to secure the hallway to keep other students from entering," Aarons said.

Anytime narcotics and money are involved he said there is "the reasonable assumption that weapons will be involved. ... Our primary concern was the safety of the students (and) everyone else involved."

'School had no knowledge that weapons would be drawn'
Aarons said "12 to 14 students" were placed in handcuffs or plastic flexcuffs "due to their failure to respond to repeated police instructions to get on their knees with their hands on their heads," after one of the lieutenants explained to the students what was going on.

A canine unit was brought in and the dog responded positively to 12 book bags, which were then searched by school officials, said David Barrow, secondary school supervisor for the Berkeley School District. But no drugs were found and no arrests were made.

"The school had no knowledge that weapons would be drawn," Barrow said. "We understand students' and parents' and the community's concerns about this particular search. We will work internally and with local law enforcement to be sure these issues are addressed."

Still, he said, the school was concerned about possible drug sales on campus, and believed action was necessary.

Jared Weeks, 14, told WCSC that police were aggressive.

"They kind of pushed us against the wall and started searching us," Weeks said. "I didn't think all that was called for."

Weeks said he was "kind of nervous," but not scared "because I didn't have anything to hide."

He said there are a lot of drugs in the school, but that this sort of raid was unnecessary. "There is certain people that you know sell drugs," he said. "They could have just searched those people."

Aarons said police believe the drug-dealing students were tipped off.

"I don't think it was an overreaction," he said of the raid. "I believe it was one tactical method by which we could safely approach the problem to ensure that everybody was safe."

He said the incident is being review





-------